December is here and the countdown is on for all those who rush to be ready in time for the holidays! For me, that means lots of homemade crafty things for gifts and BAKING! My daughter is so excited to help me make about a dozen different kinds of cookies. Our challenge this month will be like a recipe in that your layout needs to have the following "ingredients" and we'll do it in a "12 Days of Christmas" kind of way! WOOT~! Here is what you'll need:
At least: (meaning you must have at least the number shown, but you CAN choose to add more)
*12 leaves
*11 flowers
*10 buttons
*9 journal strips
*8 fasteners (tape, stitching, staples, photo prongs, screws, etc.) - You can mix/match, you don't have to have all 8 be one thing unless you want to.
*7 items in ONE cluster (paint splats, strings, leaves, bows, flowers, buttons, brads, etc.) They don't have to be 7 different items, some can repeat (leaves, flowers, etc.)
*6 ribbons (same or different, 12" or cut pieces)
*5 patterned papers (full size/large sheets or paper strips/cut pieces all count)
*4 solid papers (full size/large sheets or paper strips/cut pieces all count)
*3 photos
*2 journal cards
*1 amazing title!
Here is my sample layout using
The List
by Scrapyrus Designs. I did pull a few items from
Spring Break
(
alpha
& flower),
I Made This
(alpha), and the staple is from
A World At My Fingers
. I have lots of things layered like the leaves so even though you can't see 12 individual leaves on my page, they are there! You would see them in my PS layered file! LOL! =)
And here is another example from CT Léa using All Snuggled Up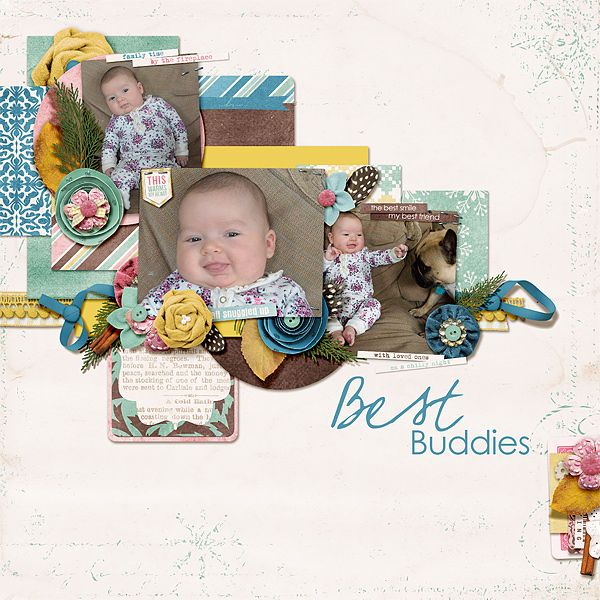 So here are the rules:
1. Create a new layout following the recipe outlined above. You
can mix and match from different kits.
2. Use 100% Scrapyrus Designs Products (freebies are allowed)
3. You are welcome to submit more than 1 layout, each one gets you an extra chance to win.
4. Please upload your layout(s) to a gallery and link us up in the comments before December 25th
.
5. Mr Random will pick a winner to receive a kit of their choice.