First of all ... a very, happy 2014 from everyone on the Scrapyrus Designs Team! We wish you a healthy and wonderful new year.
Before we let go of 2013 completely, let's use our 2013 memories for this challenge.
Take a look at your 2013 and scrap about it. A special event, things you'll remember for the rest of your life, maybe a low, something scary, etc. or just everyday life doing its thing in 2013.
We'd love to see what your year was about.
The rules:
Layouts should be made with 100% Scrapyrus Designs products.
Freebies are allowed.
You are welcome to submit more than 1 layout. Each page will give you a chance to win.
For a chance to win, upload your page(s) and put the link in the comments on this blog post

before January 25th

.
The winner of this challenge will get a guest spot on the Scrapyrus Designs Team!
Léa from the Scrapyrus Designs Team wanted to share her 2013 faves with you.
Inner Beauty by Scrapyrus Designs
While Petra wrote a beautiful piece of journaling about her ups and downs in 2013.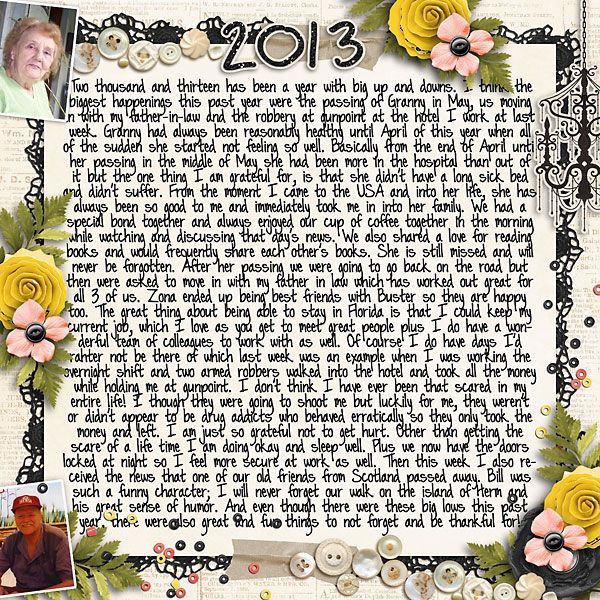 Everything by Scrapyrus Designs:
Childhood Memories, Candy Chic, Chat Your Heart Out, Inner Beauty and Splendour
The winner of the December recipe challenge is
Grace
.